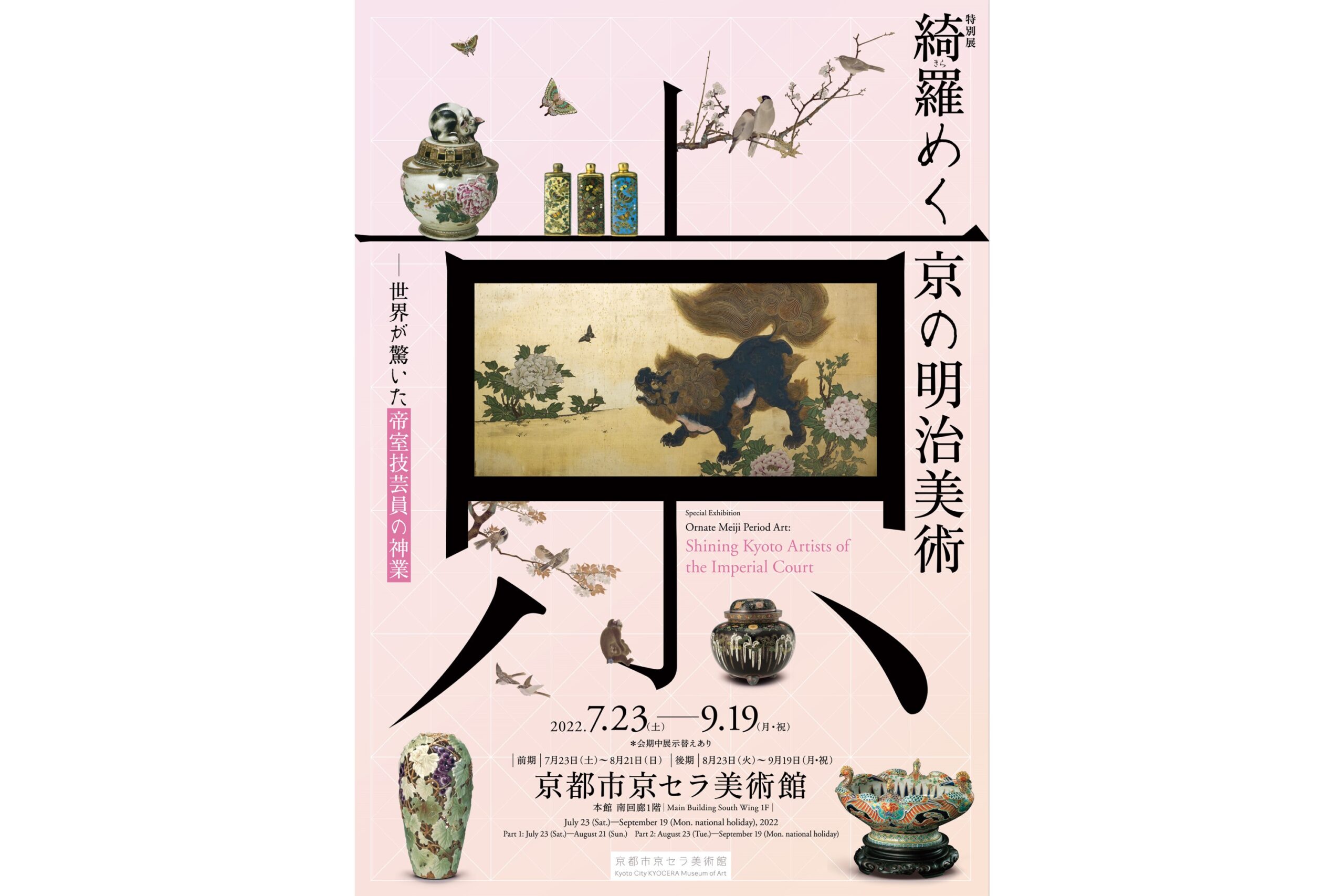 Kyoto City KYOCERA Museum of Art Special Exhibition "Ornate Meiji Period Art: Shining Kyoto Artists of the Imperial Court"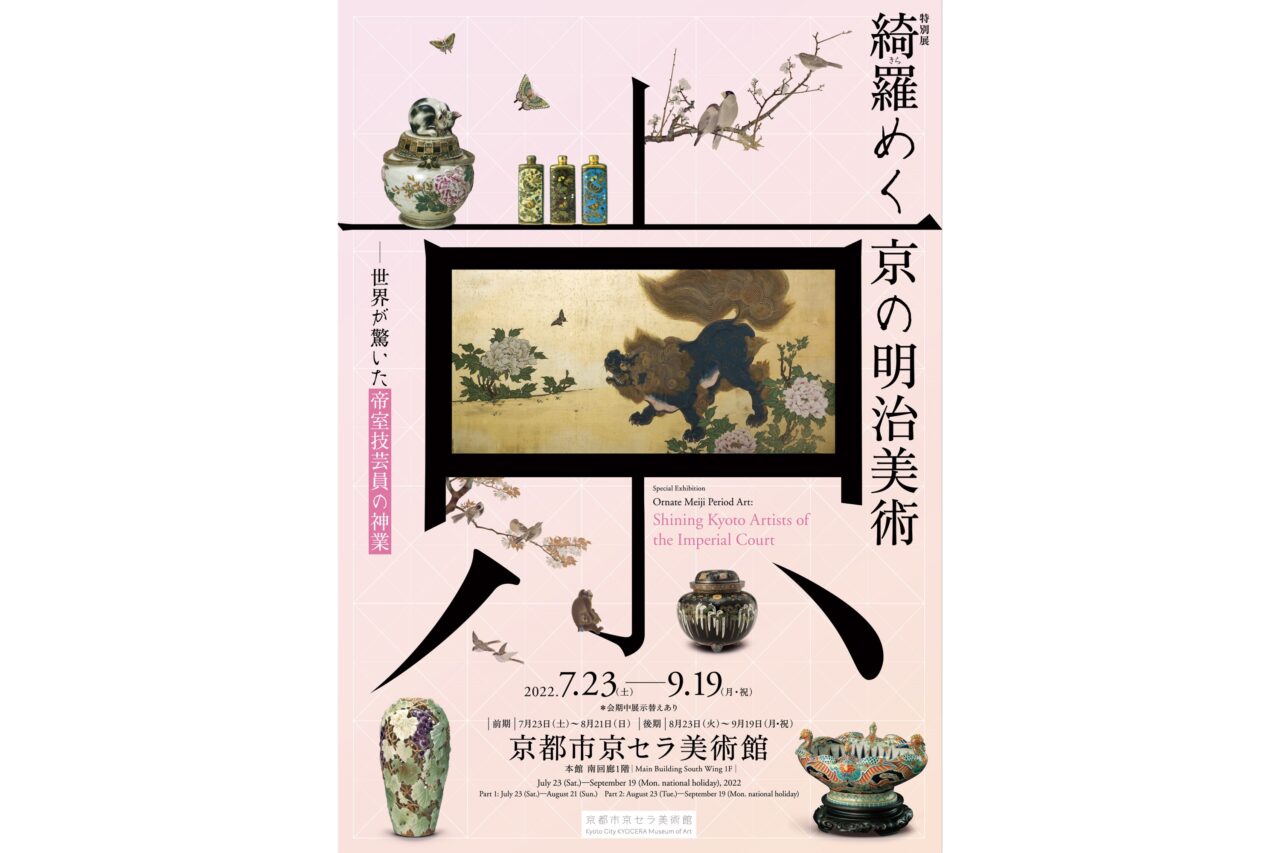 The special exhibition "Ornate Meiji Period Art: Shining Kyoto Artists of the Imperial Court" will be held at the Kyoto City KYOCERA Museum of Art from July 23 to September 19, 2022.
The Imperial Court artist system was established by the Ministry of the Imperial Household in 1890 and continued until 1944 to honor and protect outstanding artists and craftsmen. It was established to save painters and craftsmen who had lost the patronage of the shogunate and clans due to the Meiji Restoration, and to preserve their exceptional skills. It represented the highest honor and authority in the art world at the time. Many works by the small handful of selected artists were exhibited at World Expositions and other events, and strongly reflected the Meiji era, a time when Japan underwent rapid changes to become a modern nation.
This exhibition will feature many works by nineteen Imperial Court artists with connections to Kyoto, who are renowned as the best of the best. The highlights of the exhibition include gorgeous nihonga, Japanese paintings on a gigantic scale, which will be exhibited in Kyoto as a triumphal return, and a variety of highly refinend crafts that attracted worldwide attention during what was known as Japan's "Golden Age of Crafts." Visitors will be able to enjoy the beauty and techniques that were introduced to the world from Kyoto during the Meiji Era, and to imagine what it must have been like in those days.
■ Featured Artists
Kansai Mori
Bairei Kono
Gyokusho Kawabata
Chikudo Kishi
Gyokusen Mochizuki
Keinen Imao
Naohiko Kumagai
Shouhin Noguchi
Seiho Takeuchi
Tessai Tomioka
Shunkyo Yamamoto
Yasuke Date V
Yohei Seifu III
Kozan Miyagawa
Yasuyuki Namikawa
Jinbei Kawashima II
Tozan Ito
Sozan Suwa
■ General information of the Special Exhibition "Ornate Meiji Period Art: Shining Kyoto Artists of the Imperial Court"
Dates: July 23 – September 19, 2022
First Period: July 23 – August 21
Second period: August 23 – September 19
* Exhibitions may be changed during the exhibition period.
Venue: Kyoto City KYOCERA Museum of Art, Main Buliding, South Gallery 1F
Hours: 10:00 am to 6:00 pm (Last entry 5:30 pm)
Closed: Mondays (open if Monday is a national holiday)
Admission: General: 1,800 (1,600) yen; college and high school students: 1,300 (1,100) yen; junior high school students and younger: free
* Figures in parentheses indicate advance sales and group rates for groups of 20 or more people.
* High school students residing or attending school in Kyoto City enjoy free entry.
* Person with a disability certificate and one accompanying caregiver enjoy free entry.
(Please show student ID, disability certificate, or other identification as appropriate.)
Dates are subject to change without notice. Please check directly with the museum for the latest information.
Kyoto City KYOCERA Museum of Art website:
https://kyotocity-kyocera.museum/