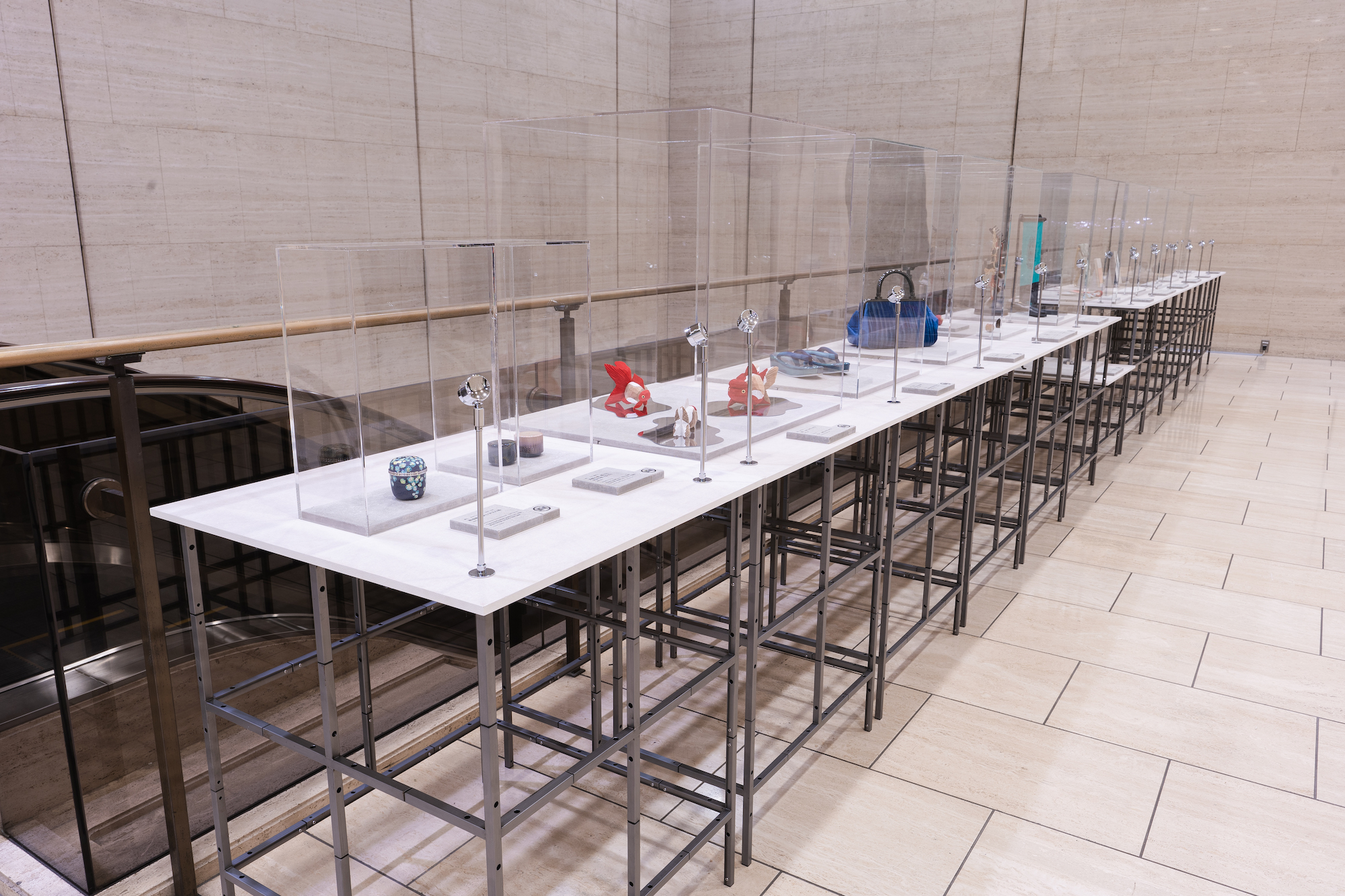 Experience the Culture of Kyoto at "THE HOTEL HIGASHIYAMA by Kyoto Tokyu Hotel"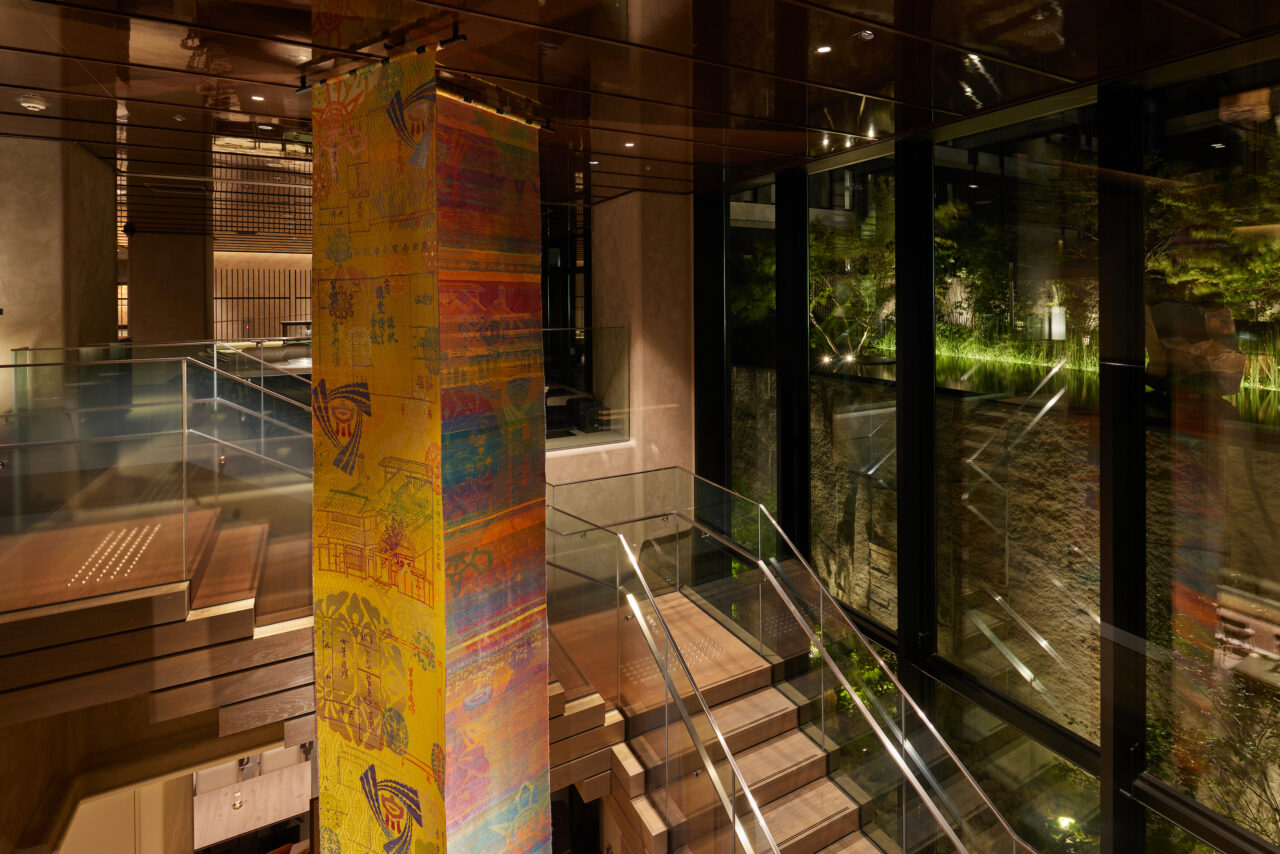 Opened in Higashiyama, Kyoto-city in July 2022, "THE HOTEL HIGASHIYAMA by Kyoto Tokyu Hotel" is a hotel that prides itself based on the concept of "The Best of the City in the East of Kyoto." At this quaint hotel, you will find yourself immersed in the traditional spirit and aesthetics of Japan.
Entering the calm atmosphere of the lobby, a 15-meter art piece catches your eye with its striking colors and a height that extends up to two stories high. Contemporizing the techniques of Nishijin-ori, a weaving method, the textile art incorporates motifs derived from the patterns, school emblems and map of Awata Elementary School, the school that used to exist in this very location before the hotel was built.
The ambience of the guest rooms is inspired by the calm of the nearby Shirakawa River. Special attention to detail is also given when curating the various in-room amenities. The tea box, which is made with Kyoto's unique tea hospitality in mind, is an original product of Takano Chikko, a high-quality tea utensils manufacturer based in Nagaokakyo-city, Kyoto, a city also known for being a bamboo production area. The tea box is handmade by the craftsmen, carefully bending bamboos one by one, combining it with paulownia wood. Alongside it, you can find beautiful tea ware made by Shinji Terauchi from Riso Porcelain in Arita, Saga Prefecture, and Japanese tea from Gion Tsujiri. In addition, there is also a scented spinning top made of bamboo that one can use and books about Kyoto and Japanese culture. All available for you to enjoy a cultural time while relaxing at the same time.
Moving onto the 1st floor of the lobby, you can find "Craft Editions," a gift shop carrying items that are carefully selected by the Kyoto Museum of Crafts and Design, such as Kyo ware, Kiyomizu ware, Kyo-yuzen (Kyoto yuzen dyeing), and Kyo-sensu (Kyoto holding fans). All of which are made by Kyoto's traditional crafts' artisans. There's also an activity program called "Kyo Iroha," for you to indulge in various cultural activities such as special exhibitions, viewing of shrines and temples, and hands-on crafts and Japanese sweets making experience. With all these in store for you, this hotel is definitely a one-stop destination to experience Kyoto to its fullest. Please take your time to enjoy your stay.
■ Hotel information
THE HOTEL HIGASHIYAMA by Kyoto Tokyu Hotel
Address: 157-2, Ebisucho Higashiyama-ku, Kyoto-city, Kyoto
Facilities: Entrance, Lobby, Restaurant, Tea & Bar, Shop, Private Spa, others
Access: 4 minutes walk from Higashiyama Station by Tozai Line subway / About 30 minutes from JR Kyoto Station by shuttle bus / About 15 minutes from Meishin Expressway, Kyoto Higashi IC
Website: https://www.tokyuhotels.co.jp/higashiyama-h/