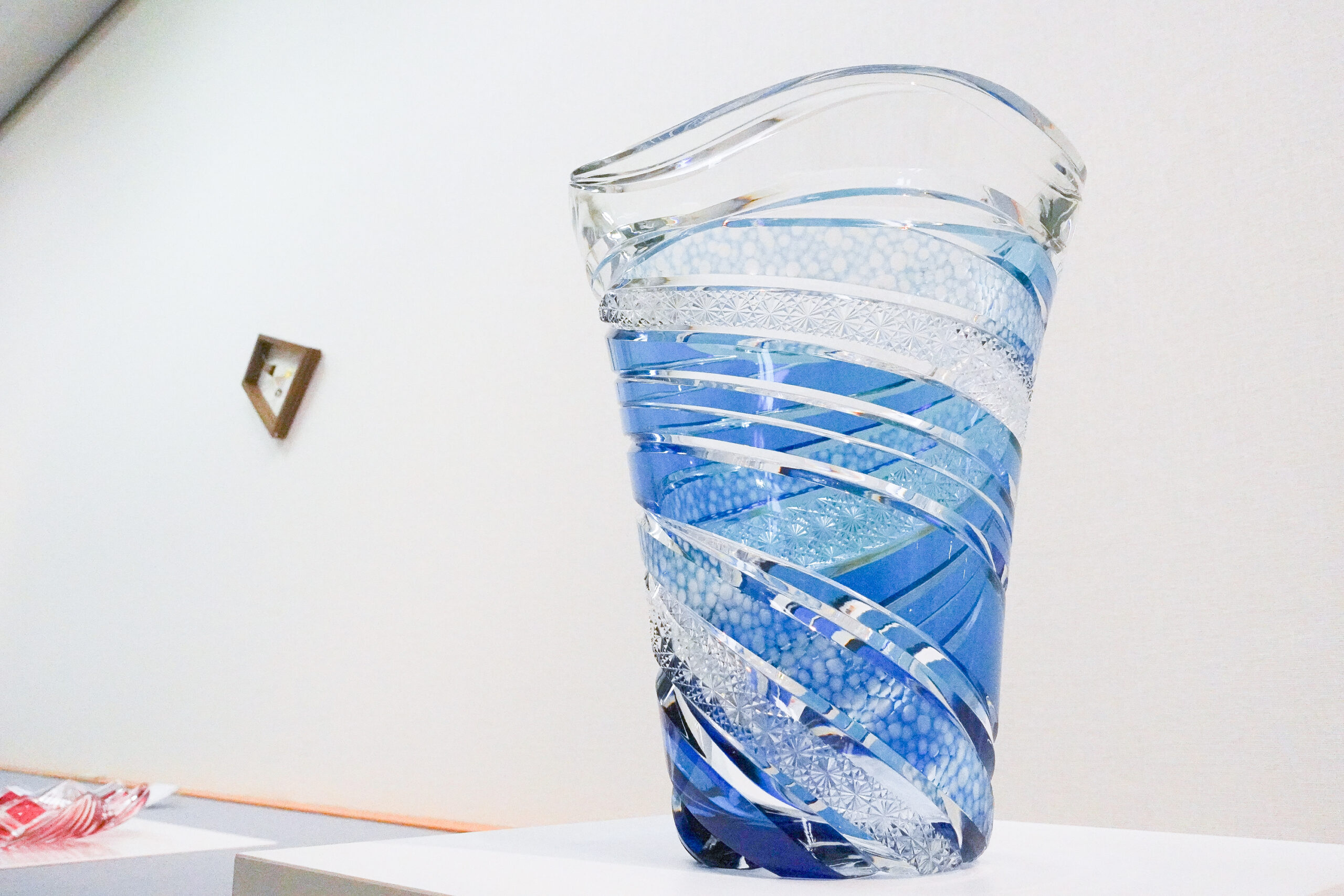 Makoto Yamaguchi Solo Exhibition
A solo exhibition by Seto ceramic artist Makoto Yamaguchi was held at Ginza Kuroda Touen Annex in Tokyo from April 3-8, 2021.
Makoto is a ceramic artist based in Seto, Aichi Prefecture, who works in Oribe, Shino, Kiseto, and other styles. His Oribe works in particular reflect his contemporary sensibility, and many possess an innovative and gorgeous beauty. His annual solo exhibition at Kuroda Touen was visited by many fans, and many of his works were quickly sold.
The work most emblematic of Makoto would be his "Rimpa Oribe" series. Rimpa Oribe is Makoto's unique technique of combining traditional Oribe with various traditional Japanese designs such as those of the Rimpa school (one of the major historical schools of Japanese painting, created in 17th century Kyoto), and decorating it with pictures and affixed patterns. The resulting impression changes depending on the angle from which you look at it, so you can enjoy it from any angle. Makoto smiles and says, "It has been very difficult to create this series," as it takes a lot of time and effort to complete the complicated process of intricate painting and affixing the clay. Earlier motifs include "Dragon" and "Phoenix," and recently "Frolicking Animals," while this time "Fudo Myoo" (one of the most important divinities in Japanese Buddhism), "Bishamonten" (another Buddhist deity), and "Mandala" (a diagram, chart or geometric pattern that represents the cosmos in Buddhist art) were unveiled for the first time. When I asked him the secret of how he comes up with ideas for his works, he said, "I want to make something cool. It's just a feeling," he said, looking a bit perplexed. He told us that he gets inspiration from the various places he has visited in Japan and abroad, the architectural designs there, and motifs related to warlords, which he himself likes.
In addition to the Rimpa Oribe, this exhibition featured many other works, including Oribe works with vivid gradations, one of Makoto's most frequent design motifs, as well as Kiseto and Shino. This year's exhibition also featured Shigaraki and ginsai (silver decoration) works, giving the impression that the tableware section of the exhibition was particularly extensive. I am sure that the number of people attracted to Makoto's creative expressions will continue to increase, as he constantly refines his sensibilities and builds on his already solid skills, and works with a great deal of curiosity.
Written by Kyoko Tsutsumi