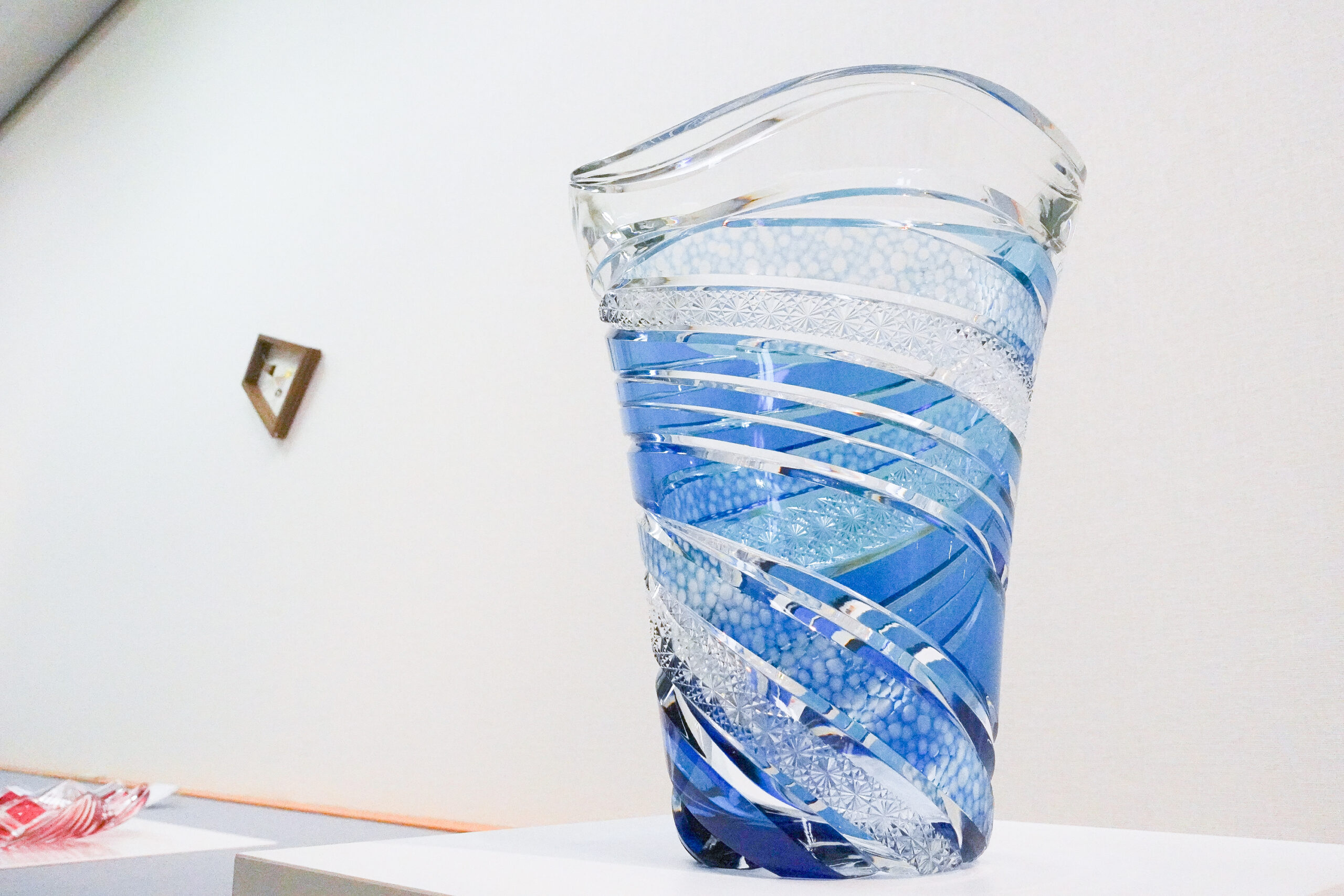 "White and Blue and Black" – Takeshi Imaizumi Solo Exhibition
A solo exhibition of ceramic artist Takeshi Imaizumi was held at Kaiden Gallery in Shinjuku, Tokyo from July 15 to 21, 2021. The gallery has been hosting Takeshi's solo exhibitions regularly for the past 10 years, and this was his sixth exhibition in the last two years. The exhibition featured more than 80 works, including new bowls and flower vases, as well as tableware that can find its place in daily life. The contents of the exhibition showed the richness of Takeshi's ceramic activities.
Takeshi, who lives and works in Saitama Prefecture, began making pottery while still at university and studied at the ISHOKEN (Tajimi City Pottery Design and Technical Center) in Gifu Prefecture. Immersed in the wonder of pottery, he is passionately pursuing the expression created by clay, glaze, and fire. His main works include celadon and white stoneware with beautiful kan-nyu (often referred to as 'crackle'), and tenmoku bowls with a variety of iron glaze tones. Takeshi's tenmoku pieces are known as "yohen tenmoku," reflecting the infinite variations of scenery created by those "changes in the kiln" – the literal meaning of "yohen". This time, too, there was a wide variety of tenmoku works on display, from those that reminded me of the tranquil night sky to those with a modern, metallic glow and complex coloration that call to mind the aurora borealis.
This is also the case with celadon: if you pick up a piece and look deeply at it, you can see that there is a world of different blues, from deep to bright, highly transparent to muddy. With regard to the white stoneware pieces, Takeshi says, "I want people to use them casually, without overthinking." In addition to elegant yet easy-to-use sake cups, plates, and bowls, the cute round flower vases are also popular among female customers. In addition to the glaze, he takes seriously the shape of his works and says, "I wanted to focus more on round shapes this time." Many round shapes were used for the tea bowls as well, and I was impressed by the good balance of the glaze and the quality of the handwork.
In the quiet and calm space of the Kaiden Gallery, the coolness of these white, blue, and black works of art ran through the air. I was able to forget the summer heat of the city and enjoy a pleasant moment.
Written by Kyoko Tsutsumi
■ Related Articles & Website
– Artist Profile: Takeshi Imaizumi
https://www.kogeistandard.com/artist/takeshi-imaizumi/
– Kakiden Gallery
https://www.kakiden.com/gallery/
B2F, Yasuyo Building
3-37-11, Shinjuku, Shinjuku-ku, Tokyo, 160-0002, JAPAN
TEL: +81-3-3352-5118
Open 11:00~19:00 (Open every day during exhibitions / Close at 17:00 on the last day)
* Opening hours subject to change depending on the exhibitions. For more information, please refer to the exhibition page.