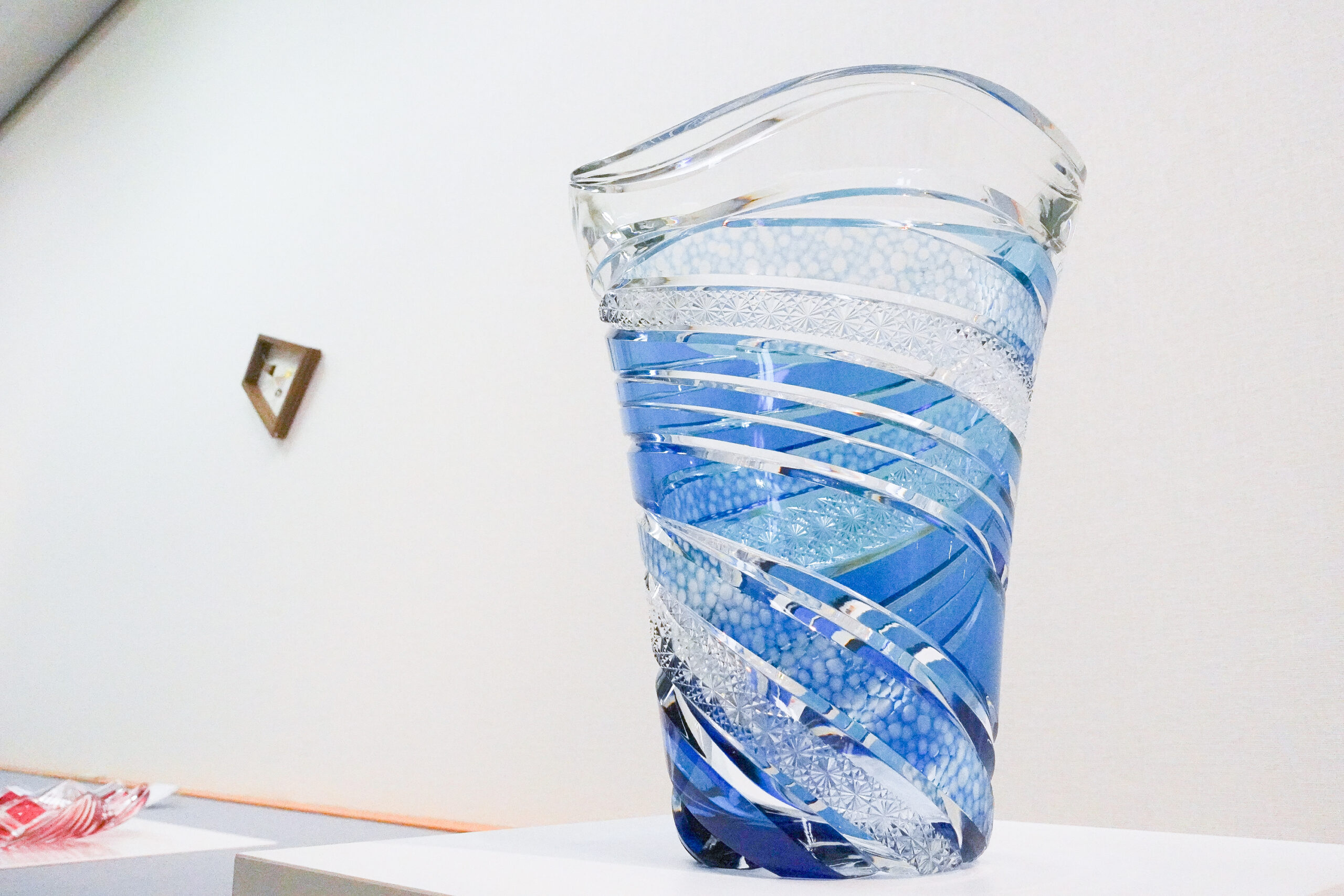 "Fuyu no Shirase (Winter's Tidings)" – Yuki Nishiyama Solo Exhibition
A solo exhibition by Hokkaido glass artist Yuki Nishiyama was held at SAVOIR VIVRE in Roppongi, Tokyo from November 27 to December 5, 2021. The gallery has held an exhibition of Yuki's work every year since 2016, and this year was her sixth one. The theme of her new works was "Fuyu no Shirase", or Winter's Tidings. The exhibition featured a total of 55 works delicately depicting richly emotional landscapes of Hokkaido's plants and insects as they transition from late autumn to winter.
Yuki handles the entire production process herself, from forming the glass by "free-blowing" it with a blowpipe to cutting and painting it. The most striking feature of this exhibition was the large three-legged bowl, "Fuyu no Shirase: Wild Grapes and Snow Bugs." The rim of the bowl has a gentle curve, giving a soft impression. "I wanted to create a lively, dynamic shape, which is possible only with free-blowing, so I tried this shape for the first time," said Yuki. The wild grapes are vividly painted on both sides of the clear glass. "This year, the wild grapes around my house are especially colorful," she says with a smile. Looking deeper into the bowl, you will notice that there are small insects with fluffy white hairs around the wild grapes. "These are called 'snow bugs,'" she explains, "and they start flying about two weeks before the first snow falls in Hokkaido. When they fly, you know that winter is just around the corner, but by the time the first snow falls, the snow bugs are completely gone." It is truly a poem of late autumn.
The "Aki Asobu" or Autumn Play series of fallen leaves is one of Yuki's new designs. The colorful fallen leaves and berries are dancing in the wind, looking happy. The process of painting and baking was repeated many times to achieve a high level of finish, and the fine sandblasting powerfully creates a three-dimensional effect. The "mimosa" series, which has become a staple of her collection, was also given a new twist: air bubbles were added only at the rim of the glass to create a pleasantly light feeling.