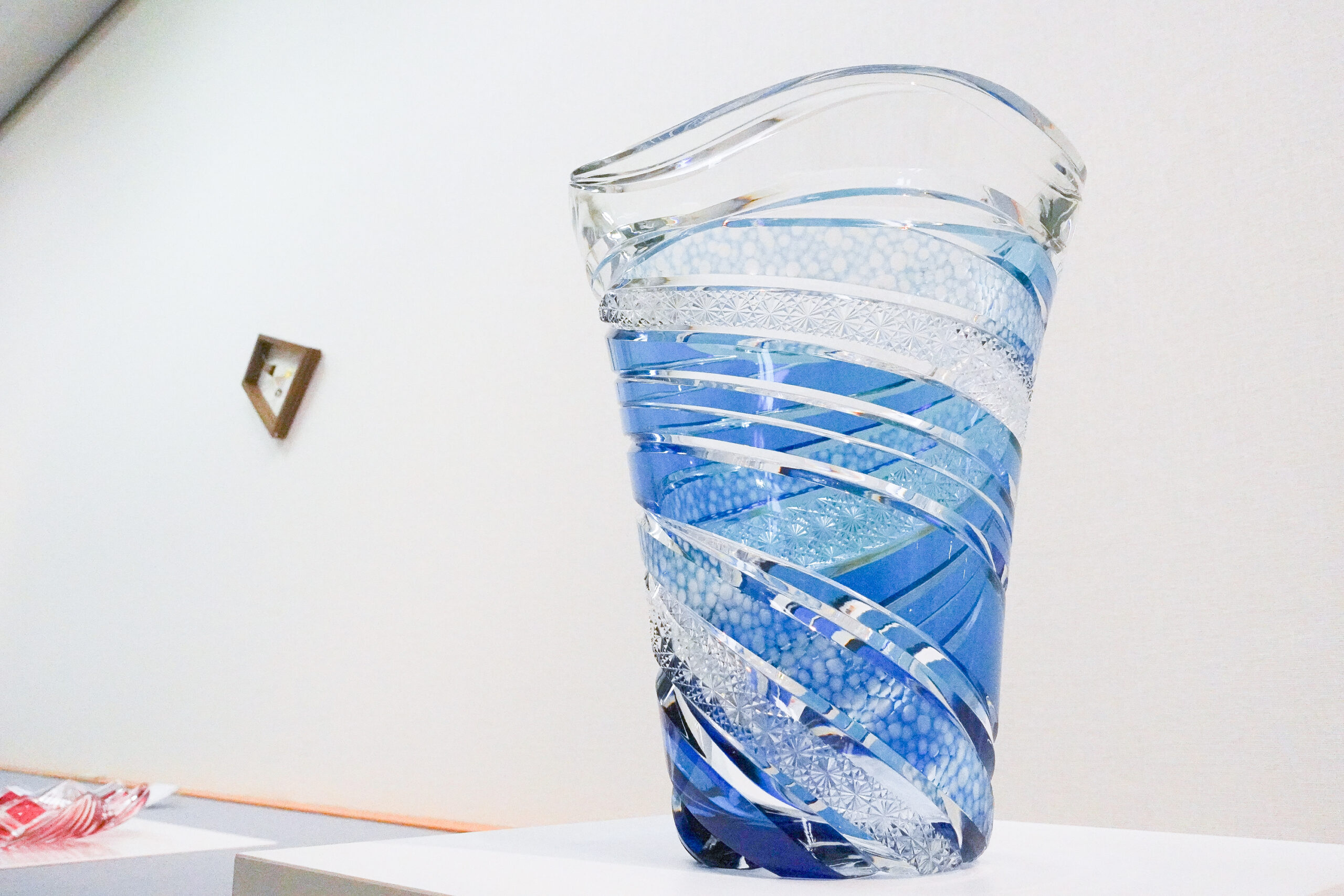 "SHAPE & DECORATION Vol. 3" – Hideaki Kakurai and Haruya Hiroshima Joint Exhibition
SHAPE & DECORATION Vol. 3, a joint exhibition by glass artists Hideaki Kakurai and Haruya Hiroshima, was held at Gallery Aizuya in Koishikawa, Tokyo, from June 25 to July 3, 2022. The theme of this exhibition was "Images of daily life created from objects." When people are attracted to or pick up an object, they may be envisioning an image of their life with that object. Based on this hypothesis, this exhibition aimed to provide visitors with an opportunity to encounter such objects. The exhibition featured approximately 30 new collaborative works by the two artists, as well as solo works by each, for a total of about 300 pieces of glass works.
Hideaki is a free-blown glass artist based in Fujimimachi, Nagano Prefecture. His colorful works are distinctive for their use of Venetian glass techniques, and he is also a well-respected "gaffer" who takes on the technical work of other artists. Haruya, on the other hand, is a cut glass artist based in Kanazawa, Ishikawa Prefecture, who has developed his own brand, "h collection." His charming works are delicate and simple cut pieces that can gently accompany you in your daily life.
Hideaki and Haruya have been friends for nearly 20 years. The "SHAPE & DECORATION" project was initiated by Haruya, who then asked Hideaki to join him. The main feature of the first exhibition in 2018 was a collaborative work in which Hideaki blew glass to create shapes which Haruya cut and decorated. This will be the third time the exhibition has been held. "Previously, there was a sense of a working separately based on each one's special skills, but this time, I think it has become more of a collaborative work. We had a lot of meetings online to work out the concept and design. The works we created together are filled with elements from both of us. I hope they will fit into everyone's daily life," said Haruya. "The first Zoom meeting was tough, as some parts were unfamiliar to us." laughs Hideaki.
Looking at the bottles and goblets they collaborated on, it is clear that the two artists' personalities are in perfect balance. The beautiful harmony of the colors, shapes, thickness, and every detail of the cut glass design of these works is sure to enhance the quality of everyday life. Solo works such as Haruya's limited series using dead stock glass and Hideaki's refrain tumblers with beautiful wave patterns have also been well received.
According to gallery owner Koichiro Sugita, "Many customers are taking their time to make careful and thoughtful selections of their items." Prior to the exhibition, the artists and the gallery owner challenged themselves to write a series of columns on the theme of "Images of daily life created from objects." This exhibition was not only a display of objects, but also an attempt to send a message to users through various creative ideas and efforts, and was enjoyed by many people. We look forward to the next exhibition.