"HOSOO TOKYO" Opened at Tokyo Midtown Yaesu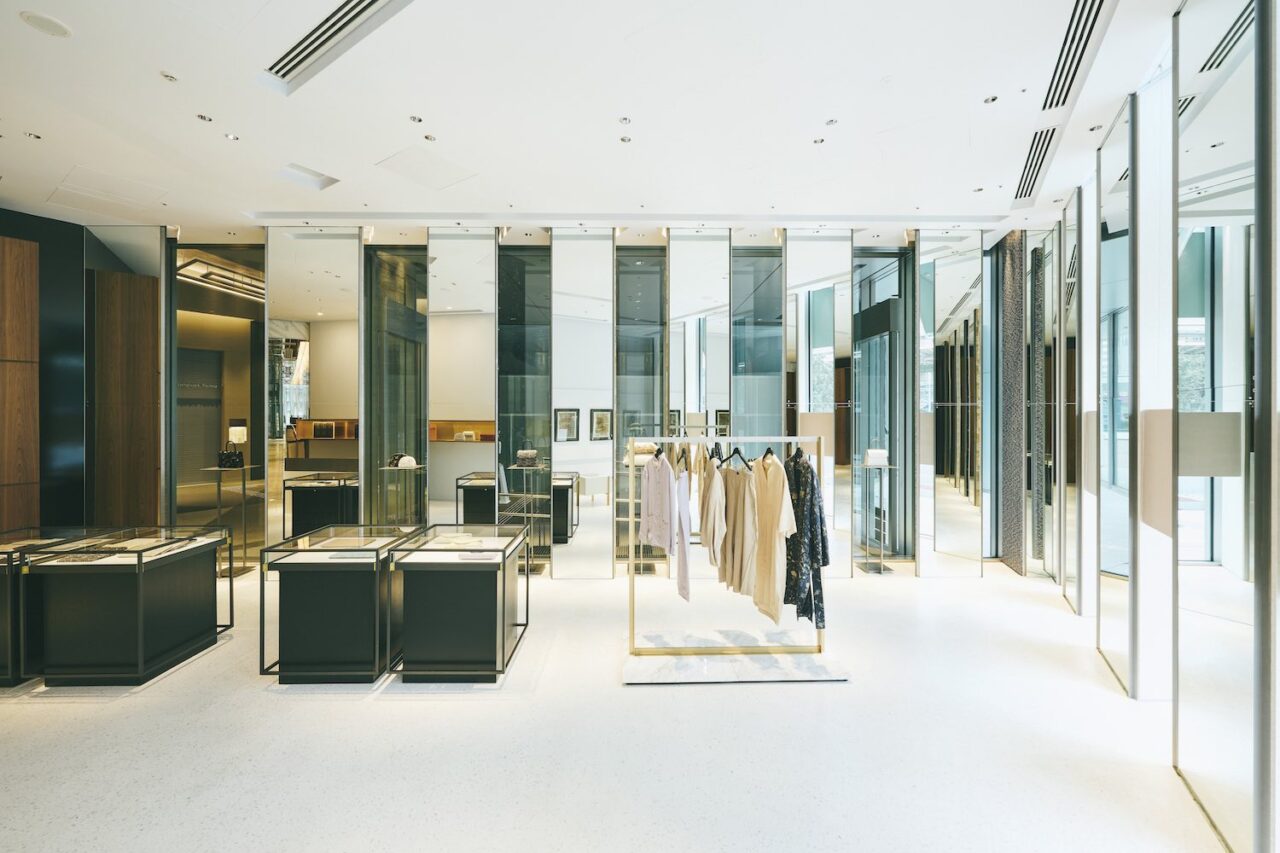 Since its establishment in Nishijin, Kyoto in 1688, HOSOO has inherited the history of Nishijin-ori and has continued to preserve the tradition of Kimono culture. In 2010, HOSOO utilized its unique technology and succeeded in producing new textiles using Nishijin weaving techniques and materials with a 150cm width, the standard fabric width worldwide. Currently, the in-house textile brand of HOSOO creates textiles by combining traditional weaving with innovative technology and timeless design sensibility. They are widely used in luxury brand stores and five-star hotels in Japan and overseas. In 2019, the first flagship store "HOSOO FLAGSHIP STORE" opened in Kyoto, and in February 2023, the first overseas showroom "HOSOO MILAN" opened in the Brera district of Milan, Italy. Then, in March 2023, "HOSOO TOKYO," the first showroom and store in Tokyo was launched in the newly opened "Tokyo Midtown Yaesu."
The store is located at the first floor, accessible from the building entrance. It has a spacious and comfortable space with a ceiling height of 4 meters that allows natural light to penetrate from the windows. Similar to the flagship store in Kyoto, the store is designed by HOSOO architecture, and the craftsmanship of Kyoto can be seen throughout the store. The 12-meter-long textile cellar displays more than 200 collections and is equipped with 6 different spatial lighting patterns, allowing customers to view the textiles under various lighting conditions. In addition, art pieces made using haku, a traditional Nishijin-ori material, as well as custom textile art and original furniture fabric can be ordered by choosing the preferred fabric from the cellar.
To commemorate the opening, the store is selling sleepwear made from fabric woven with the finest quality silk thread dyed with the endangered ancient dye plant, Nihon murasaki.
Nihon murasaki is cultivated and dyed at the Historical Japanese Natural Dyeing Research Lab founded by HOSOO and the products created through technical research have an elegant color and soft texture, providing a comfortable fit.
At the first floor entrance of Tokyo Midtown Yaesu, visitors are greeted by the 11-meter high and 7.5-meter wide gate art installation called "Nishijin Reflected," which is constructed with HOSOO's Nishijin-ori and LED vision. HOSOO TOKYO allows visitors to experience textiles and products that have been produced through a continuous pursuit of Japanese aesthetic and craftsmanship. It is a must-visit location for those who are interested.
■ General information
HOSOO TOKYO
Address: Tokyo Midtown Yaesu 1F, 2-2-1, Yaesu, Chuo-ku, Tokyo
Opening hours: 11:00 am to 9:00 pm
Tel: +81-3-6225-2245
Website: www.hosoo.co.jp