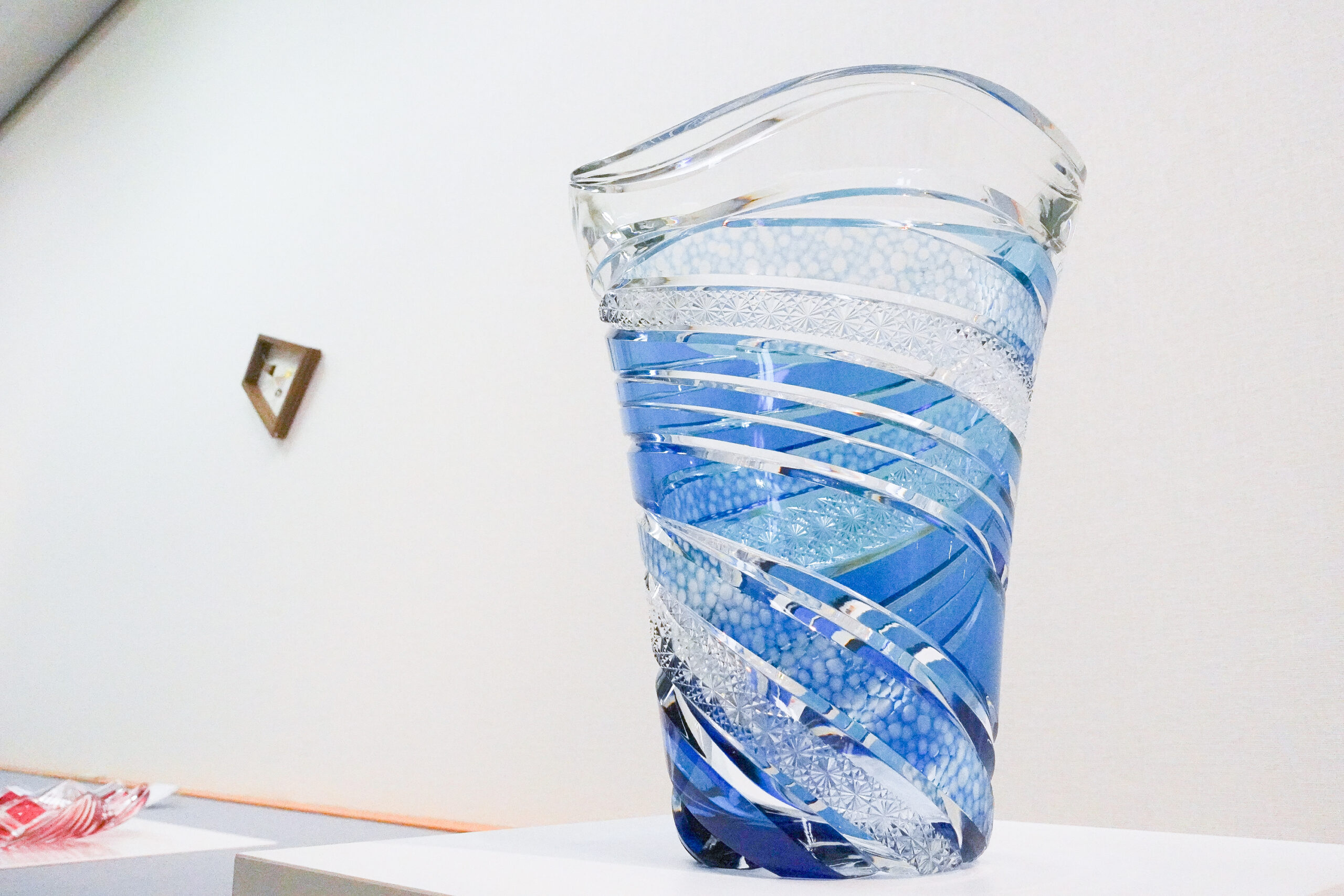 "The Rebirth of Kokura Ori: The Beauty and Essence of Stripes – The Revival of Kokura Ori That Stemmed From a Single Piece of Fabric"
In 1983, textile artist Noriko Tsuiki came across a piece of scrap cloth in a small antique store in Kitakyushu, Fukuoka Prefecture. It was a Kokura-ori children's hakama fabric with beautiful stripes that gave it a three-dimensional feel. After this fateful encounter, she began to work to revive  Kokura-ori, which had been out of production since the early Showa period (1926-1989), finally achieving her goal in 1984. Since then, Noriko has produced more than 400 Kokura-ori textile works. Almost all of the works in this exhibition at Design Gallery 1953 at Matsuya Ginza were collected and displayed. In addition, kusaki-zome yarns, which are essential to the production of her interpretation of Kokura-ori, and the plant dyes used to make them, were displayed along with "tweets" sharing her thoughts and feelings. Speaking events and workshops were also held during the exhibition period, attracting many participants.
Noriko began her career in textiles when she encountered Noh costumes while studying Zeami's treatise "Fushikaden" during her college years. However, it was not the pattern of the Noh costumes but the color that captured her heart, as Noriko said during her talk. "When a Noh performer flips his costume, the variety of colors caught my eye. I was fascinated by the serene world of these colors." She eventually moved to Kumejima Island and began learning everything from dyeing to the weaving of Kumejima-tsumugi, a pongee fabric made of silk thread, but she felt she was somehow missing something, wanting something more. "I felt inadequate because the color of the weft threads was visible," she said. "So it was very fortunate for me to encounter that scrap of Kokura-ori cloth. I could see only the color of the warp threads! I was so excited. The warp stripe design of Kokura-ori must have suited me."
Kokura-ori, a yarn-dyed textile, requires many threads in a variety of colors to express delicate gradations. Noriko usually creates threads dyed in hundreds of different colors. When asked by Mariko Tsuchida, Executive director of Japan Design Committee, who served as an interviewer at the talk event, "What color do you like best?" she replied, "Purple, the most noble color, is still the color I admire. It is difficult to dye and is a precious color. It is exceptional. As for other colors, I like green. Green is a color that cannot be dyed in one step, so I dye it first with indigo and then add yellow such as enju. It is a mystery, isn't it? Even though green is so plentiful in nature. I think it is a color that has a broad and deep range, as if we are being taught that what we see and what is true are two different things."
Design Gallery 1953 was established in 1964 to introduce various genres of design from around the world. "In past solo exhibitions of Noriko Tsuiki's work, Kokura-ori has mostly been appreciated as kimono or obi, rather than as works of art. However, this exhibition, planned and organized by world-renowned textile designer Reiko Sudo, introduces Kokura-ori from the perspective of design. This is a very groundbreaking event," says Mio Tsuiki of Kokura Shima Shima, the Kokura-ori brand for which Noriko Tsuiki supervises the design. Thanks to the efforts of Noriko and many others who share her passion, Kokura-ori production is now expanding, not only by hand weaving but also by machine weaving, and is introducing the beauty of its designs to the world. "We would like to promote Kokura-ori installations like this one at overseas venues as well," says Mio Tsuiki eagerly.
After the talk, I viewed the exhibit again. I noticed that Noriko's affection for the colors of the natural world underlies all of her stripes. As she says, "I listen to the sounds of the natural world and design the music that comes to my mind and put it into the stripes," each color is vibrantly alive as if playing a harmony within the stripes. She is currently experimenting with diagonal lines to enhance the beauty of the vertical stripes, something that is still a trial and error process which requires a high level of perfection. Next year, Kokura-ori will celebrate the 40th anniversary of its rebirth. We look forward to a new piece being spun.
Written by Kyoko Tsutsumi
"The Rebirth of Kokura Ori: The Beauty and Essence of Stripes – The Revival of Kokura Ori That Stemmed From a Single Piece of Fabric"
Dates: December 27, 2022 to February 20, 2023, 10:00 am to 8:00 pm (Final day closes at 5:00 pm), Free admission
Venue: Matsuya Ginza 7th floor, Design Gallery 1953 (3-6-1, Ginza, Chuo-ku, Tokyo)
Website: https://designcommittee.jp/