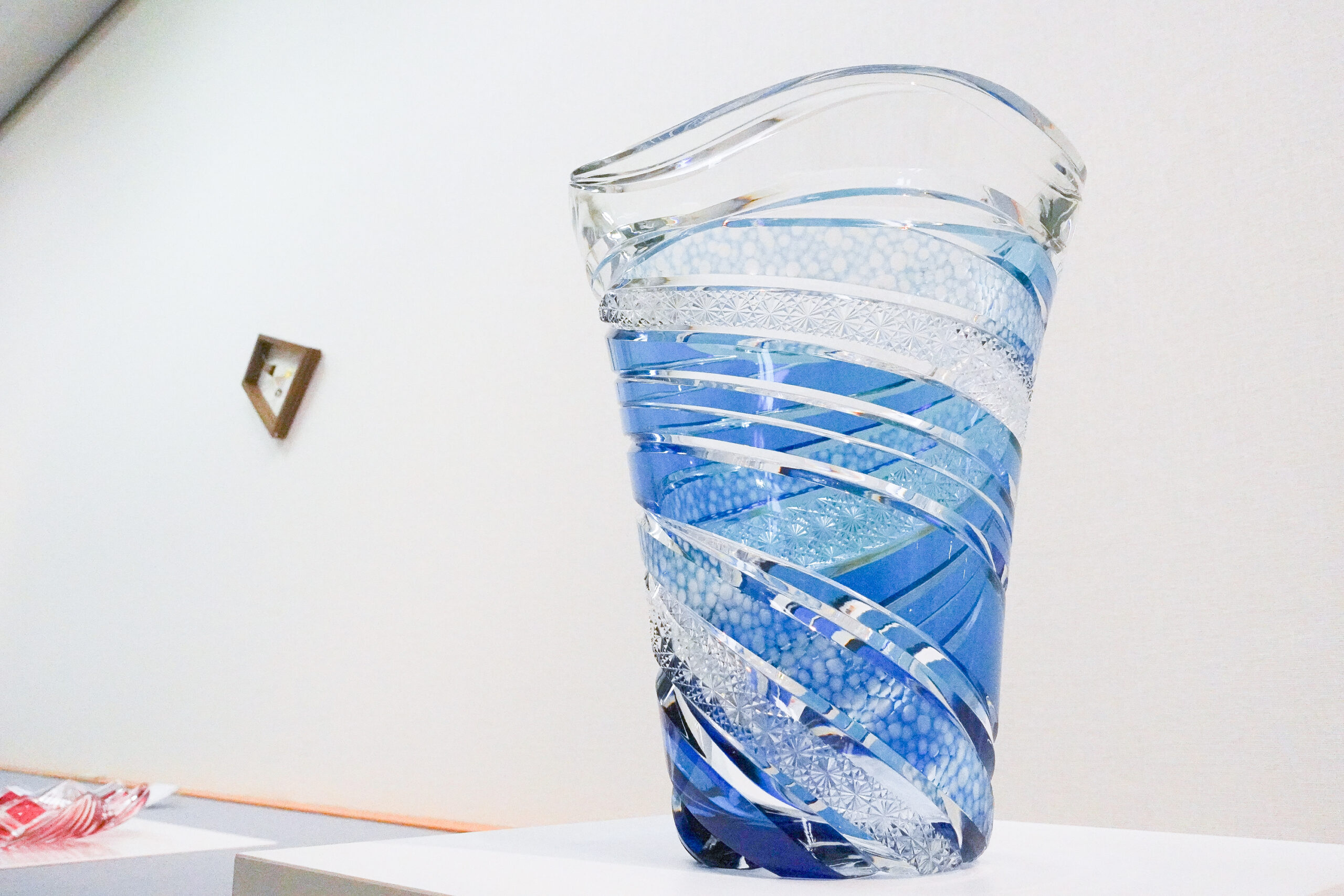 Ikuko Ogawa "Kiriko" Exhibition
From June 28 to July 3 in 2023, the third solo exhibition by Ikuko Ogawa was held at Mitsukoshi Main Store in Nihonbashi, Tokyo, marking a return after four years. Ikuko seamlessly blends the distinctive features of Edo and Satsuma styles of kiriko faceted glasswork, creating exquisite glass artworks. The exhibition showcased a total of 160 pieces, ranging from small obidome (kimono sash clips) and sake ware to large bowls and flower vases. This exhibition offered the opportunity to simultaneously appreciate both new and past works, tracing the trajectory of her creative journey.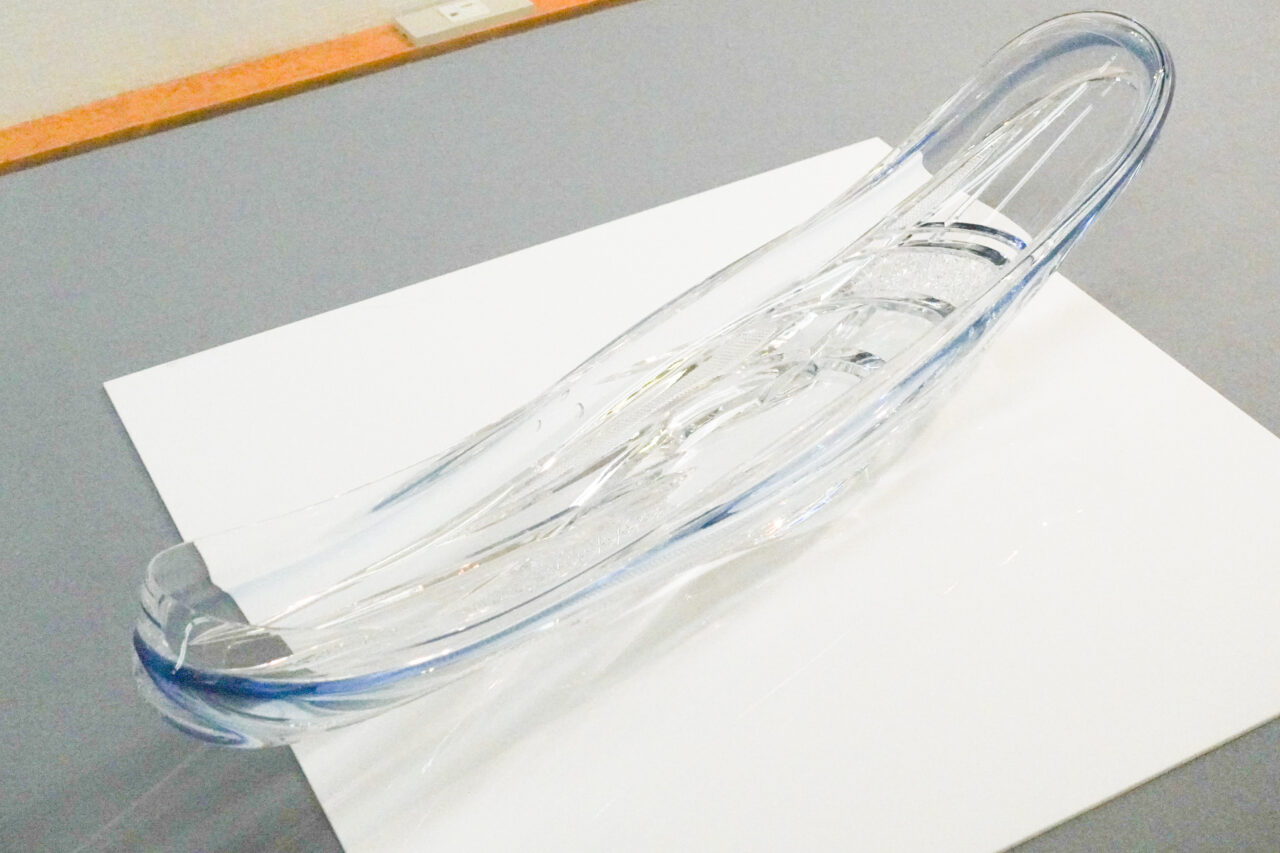 In the past, Ikuko was strongly conscious of incorporating traditional Edo kiriko patterns into her works. In her recent pieces, however, a more flexible approach has become evident. An example of this is seen in the design of the "Nami-oto" ("Sounds of Waves") Cased and Cut Glass Flower Vase, where the "ball-cut" technique often employed in Edo kiriko is combined with color blending and the irregular placement of various-sized spheres. This design captures the fleeting moment of bubbles dancing in water, presenting a fresh and vibrant piece. This blending of colors is a characteristic distinctive to Satsuma kiriko, where a grinder with a blunt-angled, mountain-shaped blade is used to create incisions on overlaid glass to achieve color gradients on the cross-section. Ikuko employs a "kamaboko" grinder with a round tip for this cutting, enabling her to achieve a unique and poetic blending expression that is gentle and enchanting. The exhibition also features the actual grinders used by Ikuko in her creative process.
Ikuko's technique, as she says, "brings out the beauty of the glass itself," suggesting new possibilities for cut glass that transcend the boundaries of Edo kiriko and Satsuma kiriko. The "Flowing Blue" Cut Glass Bowl, which stands out with its distinctive boat-like shape, is another work that captures Ikuko's creative perspective. Created using blown glass by Shinichi Shimamura, a glass artist at the Atsugi Glass Studio with whom Ikuko frequently collaborates, this piece features an exceedingly simple cut design that eliminates any excess, thereby accentuating the inherent beauty of the glass itself.
Incorporating various colored glass into her creations is one of Ikuko's distinctive styles. The serene hues of "ao-midori" (blue-green) and "ai" (indigo) that Ikuko often prefers to use harmonize well with living spaces. The deep blue of "ruri," which along with "kin-aka" (gold-red) is a traditional Edo kiriko color, exudes in its vividness an indescribable sense of luxury. Additionally, there are a variety of glass colors such as "kin-murasaki" (gold-purple), black, opal, and amber, providing viewers a with refreshing visual delight.
When asked about the process of creating her works, Ikuko explained, "I draw designs directly on the glass, and refine the preliminary sketch by repeatedly erasing and redrawing while maintaining balance. Even after I start cutting, I feel like the image gradually takes shape as I create." She names her works after they are completed, striving for titles that convey the image clearly yet avoid being clumsy, but laughs that doing so is surprisingly challenging. Her genuine and calm personality captivates many people, along with the creations of her hands.
Written by Kyoko Tsutsumi